Terry Pratchett died yesterday. He had Alzheimer's. He was brilliant. He wrote books from the fantasy genre but he was so funny and so very wise that before my handwriting became unreadable, I often wrote down quotations from his books when I read them. These a few memories Tiffany Aching had of Miss Tick, an older witch who often taught apprentices. It is from _A_Hat_Full_of_Sky_.

"Bits of Miss Tick's teachings floated through her head: Always face what you fear. Have just enough money, never too much, and some string. Even if it's not your fault, it's your responsibility. Witches deal with things. Never stand between two mirrors. Never cackle. Do what you must do. Never lie, but you don't always have to be honest. Never wish. Especially don't wish upon a star, which is astronomically stupid. Open your eyes, and then open your eyes again."
Powered by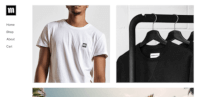 Create your own unique website with customizable templates.